ULN15TK Narrow-Linewidth Single-Frequency 1550nm Laser
ULN15TK Narrow-Linewidth Single-Frequency 1550nm Laser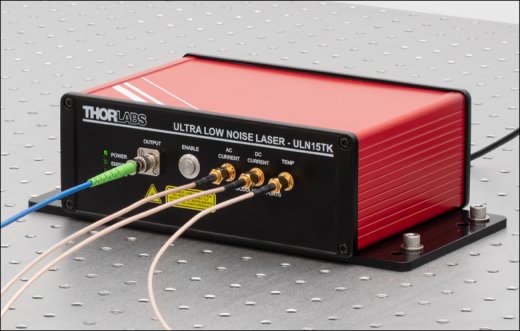 OVERVIEW
Thorlabs' ULN15TK Turnkey, Ultra-Low-Noise (ULN) Laser System is a ready-to-use laser system that integrates our ULN15PC laser, which has a patented fiber Bragg grating (FBG) based design, with a low-noise driver and temperature stabilization inside of a benchtop housing. This turnkey laser system provides single-frequency emission with relative intensity noise below -160 dBc/Hz and typical (Lorentzian) linewidths of 100 Hz. Factory-set for optimized performance, this laser offers typical optical output powers of 120 mW with a side mode suppression ratio (SMSR) of 70 dB.
Factory-set for single-frequency operation, the ULN15TK laser has a preset drive current and FBG temperature. These operating conditions are selected to minimize the laser linewidth while also providing the highest output power and long-term stability.
To achieve the narrow linewidth of the ULN15PC laser, this turnkey ULN laser includes drive electronics that are designed to minimize the current noise. The drive electronics also includes a thermal stabilization system that controls the internal temperature settings of the laser and ensures long-term power and wavelength stability when the system is used in standard laboratory environments. A fiber isolator is also integrated at the output of the laser in order to minimize the impact of any back-reflected light on the laser.
Applications requiring precise locking can be obtained by employing the integrated AC, DC, and temperature control modulation in conjunction with a Thorlabs custom reference cavity with utilizing our crystalline supermirrors.
For the most accurate information, please visit Thorlabs.com
SPECIFICATION
Center Wavelength:

1.55 um

Output Power:

>90 mW

Center Wavelength:

1550 nm

Linewidth (Lorentzian):

<250 (Typ. 100) Hz

Power:

>90 (Typ. 120) mW

Relative Intensity Noise:

-160 dBc/Hz

Side Mode Suppression:

>60 (Typ. 70) dB