Frequently Asked Questions (FAQ)
Frequently Asked Questions (FAQ)
What is FindLight?
FindLight is an industrial marketplace connecting sellers and buyers. With over 2500 suppliers globally it's one of the largest catalogs of photonics products. We offer an all new way to search for and find these products by providing a vast catalog that, with our industry-specific technical filters, allow specialists to search, find, and learn about the products they need, all within seconds from anywhere in the world.
How does it work?
Thousands of industrial suppliers post their products into an organized catalog of a centralized marketplace. Interested buyers come to FindLight and search from a myriad of posted products, all in one convenient place.
Do you transact directly on FindLight?
Not at the moment. Instead we allow interested buyers to reach out to and connect with suppliers directly. Each product page has a "REQUEST QUOTE button that allows reaching out to the suppliers directly: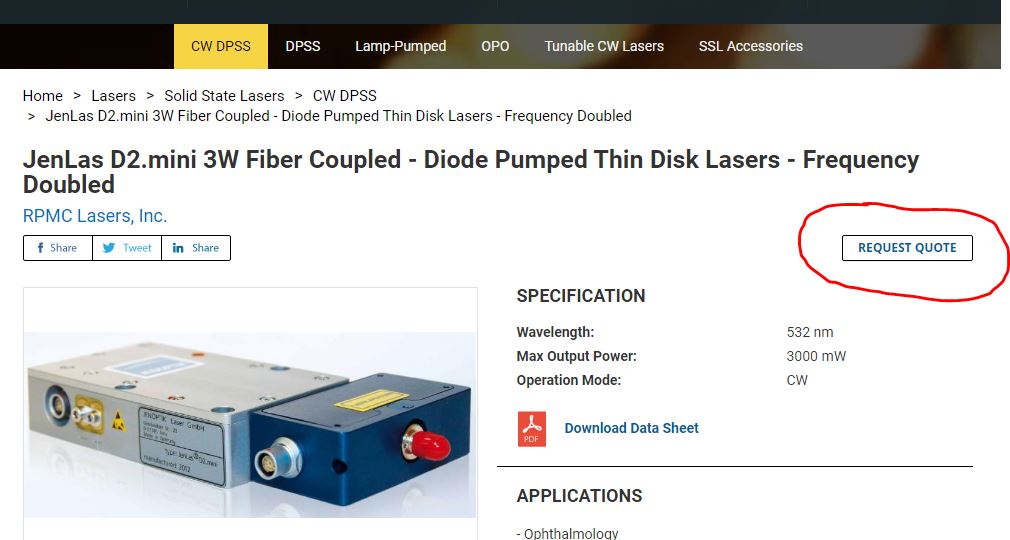 I am a Photonics Vendor. Why should I post product on FindLight?
In one word - exposure. By posting your products on FindLight you effectively leverage your product marketing by allowing your products to reach a wider audience from anywhere on the globe on a highly visible platform.
How can I start on FindLight as a Vendor?
You can start by opening a free account that allows uploading 10 products at no cost to you.
How to post products on FindLight?
We have made a step by step tutorial video for how to post products on FindLight: https://www.youtube.com/watch?v=VbkqzXyI3r8
How to create a high performance product listing on FindLight?
We have published a blog post outlining 10 Tips for Creating a High-Performance Product Listing. In this article, we discuss the top 10 factors that impact the ranking of your product pages on search engines.
I'm a buyer shopping for Photonics. Why use FindLight?
For a few reasons:
Finding Suppliers: FindLight combines and condenses key companies offering suitable products into one manageable search location.
Solicitation for Quotes: FindLight sends your product quote request to multiple vendors if needed to get the best product meeting your requirements
Data Compilation: FindLight displays specifications data in one standard format making it easy to find relevant information
Comparative Analysis: You can easily compare products next to each other and download or email the comparison tables
Risk Reduction: Consider alternate vendors to make sure you are getting the best quality and price
What are Turbo Leads?
Turbo Lead feature allows buyers on FindLight to solicit quotes for competing products from alternate vendors within the same product category. Vendors with Turbo Leads feature activated will receive copies of requests for quotes (RFQs) sent from buyers to other vendors. Buyers have a choice to opt-in or out of this feature prior to requesting information for a product. This is a significant benefit both to our buyer and vendor communities encouraging more interaction and discovery.
How it works for Vendors. Vendors can opt in or opt out from this feature. By opting out the Vendor will stop receiving Turbo Leads. At the same time, this Vendor's leads will also not be shared with other Vendors. If you are a subscriber to one of our premium services, your leads will always be private and will not be shared as Turbo Leads. The Vendor can opt out from this feature by logging into his/her account and unchecking the Turbo Leads under My Account/My Contact Preferences.
How it works for Buyers. When sending a request for quote (RFQ), the Buyer has the option to opt out from soliciting Turbo Leads. When opted out, the RFQ will not be sent to alternate vendors for quotation and will only be sent to the chosen product Vendor.
What are External Vendors on FindLight?
External Vendors are companies that have not yet registered with FindLight as a supplier. The content provided on those product pages might not be up to date and reflects information that has been made publicly available online. All requests for information are first directed to the FindLight team who will reach out to those external vendors and connect you with them directly. FindLight team works hard to deliver the requests as soon as possible, but note that communication from such external vendors might be delayed. If you are one of such external vendors please take a moment to claim your page on FindLight.
What is a Vendor Storefront (or microsites)?
The vendor storefronts (a.k.a. "microsites") are the storefront store front of the individual suppliers on FindLight. For buyers it's place to shop for various products from one particular vendor displaying all products by that specific vendor organized into specific categories. If you are supplier and would like to learn more about this feature please check out this summary here.
Are you a premium tier subscriber and have questions about your benefits?
We have a dedicated page for FAQs by premiuim tier suppliers here.
I am a supplier. Do you have any resources to help our sales and marketing team to be more efficient?
We do. We have launched FindLight Sales Academy - a knowledgbase of sales and marketing articles to help you stay informed and get inspired to grow your business.