Sterilizable IR-ATR Fiber Probe for Bio- Process Monitoring (Cubic Zirconium ATR)
Sterilizable IR-ATR Fiber Probe for Bio- Process Monitoring (Cubic Zirconium ATR)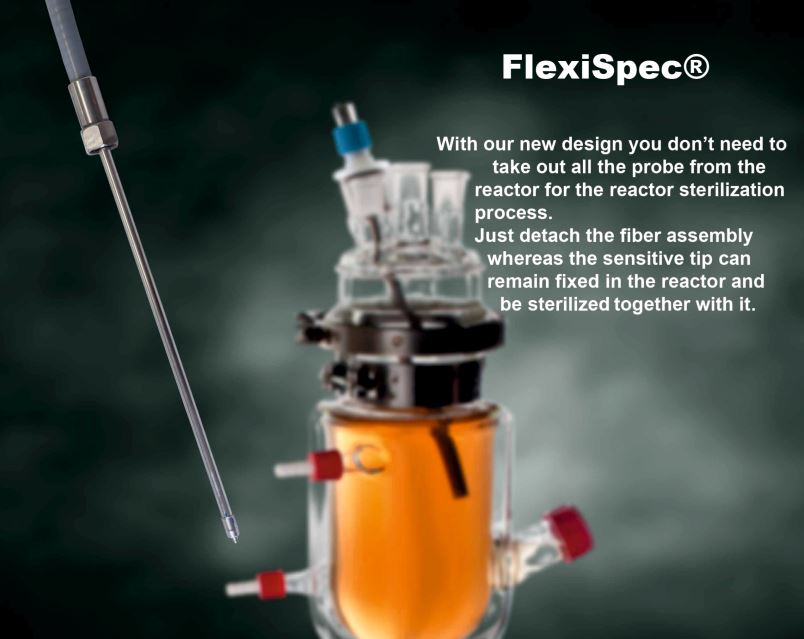 OVERVIEW
Sterilizable ATR Fiber Probe is a new product of art photonics' FlexiSpec® product line. This ATR Probes are produced with any type of ATR element and for any type of FTIR spectrometers.
Unique Shaft-in-Shaft design enables use of FlexiSpec® ATR Probe in Bio process where sterilization is required without having to forgo the renowned advantages of MID-IR FTIR spectroscopy. 
With our new design you don't need to take out all the probe from the reactor during the reactor sterilization process. Just detach the fiber assembly whereas the sensitive tip can remain fixed in the reactor and be sterilized together with it.
SPECIFICATION
Transmission:

1.5 - 6.5 um

Temperature Range:

-100 - 200 C

Fiber Type:

CIR 500/550 Chalcogenide glass (As-S)

Pressure (max):

100 Bar

Total Length:

1.5 m

Shaft Length:

300 mm

Shaft Diameter :

12 mm

Shaft Material:

Hastelloy C22

Length Of Legs:

500 mm

Protective Tube Material:

Liquid Tight SS-Conduit, KOPEX-Tube

Minimal Bending Radius:

130 mm

Input / Output Connectors:

Long SMA
Applications
* Reaction Monitoring in real time
* Process Analytical Technologies (PAT)
* Remote Polymerization Control
* Crystallization Process Screening 
* In-situ IR-Spectroscopy for PAT in Chemical, Petrochemical, Atomic, Bio-pharmaceutical & Food Industry