RIO PLANEX™ Series 1550nm Low Phase Noise Narrow Linewidth External Cavity Laser (20mw)
RIO PLANEX™ Series 1550nm Low Phase Noise Narrow Linewidth External Cavity Laser (20mw)
RIO (OptaSense, Inc)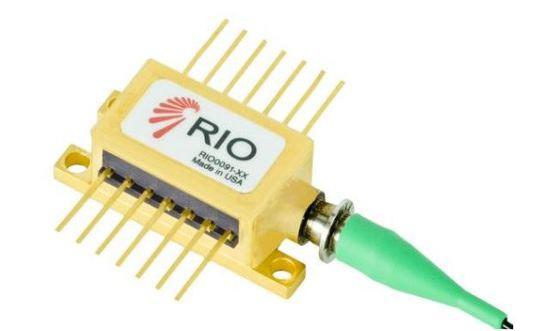 OVERVIEW
The RIO019x Series devices are high-performance cost effective External Cavity Laser (ECL). The design is based on RIO's proprietary planar technology (PLANEX™) and consists of a gain chip and a planar lightwave circuit including waveguides with Bragg gratings, forming a laser cavity with significant advantages.
PLANEX™ laser combines high performance, comparable with long cavity fiber lasers, with the low cost, simplicity, small size and reliability of semiconductor lasers.
PLANEX™ laser is an ideal source for multiple commercial and military fiber optic sensors applications, including interferometric and Brillouin DTSS systems for oil & gas, security and smart infrastructures monitoring, coherent Doppler LIDAR for wind measurements, coherent and heterodyne metrology, photonic velocimetry and vibrometry, and coherent communications. Laser is available with various wavelength, phase noise and output power options.
SPECIFICATION
Center Wavelength:

1.550 um

Output Power:

20 mW

Side Mode Suppression Ratio:

40 dB

Center Wavelength (ITU Grid):

1530 - 1565 nm

Relative Intensity Noise (>/= 1kHz):

-140 dB/Hz

Polarization Extinction Ratio:

20 dB

Wavelength Tunability:

30 dB
Applications
* Acoustic & seismic interferometric fiber optic sensing
* Defense and security
* Oil & Gas – exploration and production
* LIDAR
* Metrology
* RF and microwave photonics
* Coherent Communications
KEY FEATURES
* Single longitudinal mode
* Center wavelength: 1530nm-1565nm, ITU -T DWDM 100 GHz C-band or custom
* Very narrow linewidth, long coherence length
* Very low phase noise
* Wavelength tunability
* Ultra low RIN
* Excellent SMSR
* Excellent wavelength stability over life and temperature
* Low sensitivity to vibration and acoustic noise
* CW, modulated and pulsed operations
* Small form factor, 14 pin butterfly
* Low power dissipation
* SMF and PM fiber pigtail options
* Telcordia GR-468 qualified
* RoHS compliant