SCW 1397-CWDM * R
SCW 1397-CWDM * R
OSI Laser Diode Inc.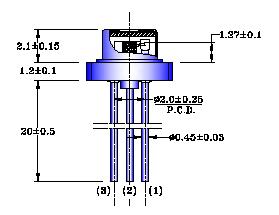 OVERVIEW
The SCW 1397-CWDM * R laser diode series is a 1300nm high speed single mode edge emitting multiquantum
well CWDM laser diode packaged in a 3 pin TO56 package with window cap. The SCW 1397 series
laser diode modules are targeted for use in uncooled CWDM applications. The SCW 1397 series laser
module includes a monitor detector for feedback control. The device is RoHS compliant.
SPECIFICATION
Center Wavelength:

1.45 um

Output Power:

8 mW

Center Wavelength:

1270 - 1450 nm

Operating Temp. Range:

-40 - 85 oC

Threshold Current:

11 mA

Spectral Width (RMS):

0.32 nm

Forward Voltage:

1.35 V

Monitor Current:

30 μA
Applications
Uncooled CWDM applications