Fiber Optic Polarization Beam Splitter
Fiber Optic Polarization Beam Splitter
Ruik-Tech Communication Co.,Ltd.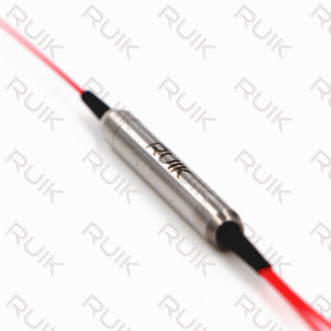 OVERVIEW
Ruik的偏振分束器设计用于将任意偏振的一束光束分成垂直于每个偏振的两束光束Ruik的偏振分束器设计用于将任意偏振的一束光束分成垂直于每个偏振的两束光束。 Ruik的偏振分束器设计用于将束束。两Ruik 的偏振分束器设计用于将任意偏振的一束光束分成垂直于每个偏振的两束光束。光路是从光纤到两根光纤。瑞克的Ruik的偏振分束器被设计成一个分中的任何光束极化成两束,每束极化垂直。光纤分束器被设计成分中的任何单独的一束两束,每束光纤。光路是从光纤到两根光纤。光纤。Ruik 的偏振分束器设计用于将任意偏振的一束光束分成垂直于每个偏振的两束光束。光路是从一根光纤到两根光纤。Ruik's Polarization Beam Splitter is designed to divide one beam of any polarization into the two beams of the polarization vertical to each. The optical route is from one fiber to two fiber.
1x2佛分束器
特性
应用
低进口纤维
传感器
高回波
光纤传感器
高消
光比光纤陀螺
高
相干驾驶系统
高稳定性

规格
参数
单位
值
等级
-
P
A
P
A
中心波长
nm
1310,1550
1064,980
工作波长范围
nm
±40
±20
Typ. 插入损耗在23℃分贝0.4 0.5 0.6 0.7最大。23℃时的插入损耗dB 0.6 0.7 0.8 0.9最小值 23℃时的消光比dB 22 20 22 20分钟 方向性dB 50分钟 回波损耗dB 50最大值。光功率(CW)Typ. Insertion Loss at 23℃


Directivity


毫瓦
300
最大 拉伸负载
N
5
光纤类型
端口 1 和 2
-
PM Panda 光纤

端口 3

SMF-28E、Hi1060或PM熊猫光纤工作温度℃ -5~+70存储温度℃ -40~+85对于带连接器的设备,IL高0.3dB,RL低5dB,ER低2dB。默认连接键与慢轴对齐。SMF-28E, Hi1060 or PM Panda fiber

For ordering information please refer to the attached data sheet
About the Company:
RUIK-Tech Communication is a manufacturer and supplier of Optical Passive Components with ISO9001:2015 certified. We design advanced and cost-effective passive components for various industries which include Fiber Laser, Sensing Applications, CATV, Telecommunication, Medical Systems, Gyroscope, etc.
我们的主要产品包括高达 100W (20kW) 的高功率组件、保偏 (PM) 和范围从 780nm 到 2000nm 的单模光纤组件。还为客户提供定制组件。
高光纤光纤组件:
-光纤隔离器,最高100W;
-自由空间隔离器,最高100W;
-光环行器,最高30W;循环器,最高30W;Circulator, up to 30W;
-泵浦激光保护器;
-带通
光纤;-Nx1泵合路器;
-包层电源破坏器;
-模式场导致;-(
N+1)x1泵浦和端口组合器,200W/端口信号
SPECIFICATION
Splitting Ratio:

50/50, 70/30, 80/20, 90/10, Other

Central Wavelength:

2000 nm

Power Handling:

> 100mW

Return Loss:

50 dB