Tunable Monolux Quantum Cascade Laser at 6.8um
Tunable Monolux Quantum Cascade Laser at 6.8um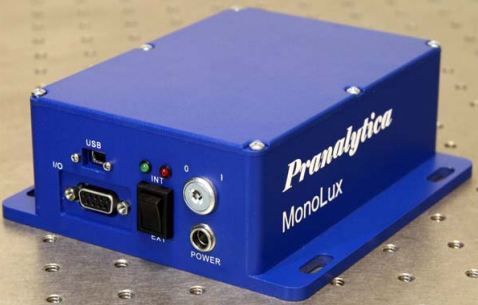 OVERVIEW
Tunable Monolux QCL system by Pranalytica. 
Quantum Cascade Lasers (QCLs) represent a fundamentally new class of 
semiconductor lasers that are capable of generating light in the mid wave to long
wave infrared portions of the spectrum, generally between 4 and 12 microns. MonoLux is a wavelength tunable external grating cavity quantum cascade laser system consisting of one QCL.
SPECIFICATION
Output Power (avg):

0.5 W

Wavelength:

6.8 um

Pulse Duration:

50 - 500 ns

Tuning Range Around Center Wavelength:

>= 300nm

Wavelength Range:

3.8 - 12 um

Rep Rate Range:

0.5 - 2 MHz
Applications
- Spectroscopy
- Free space optical communications
- Directed infrared countermeasures and 
other security areas
KEY FEATURES
The QCL is operated in a quasi-CW mode with 200-500 ns pulses with a duty cycle of ~50 %. In this mode of operation, the average power output from a QCL exceeds 500 mW at the center of its tuning curve depending on the choice of center wavelength. MonoLux can also be operated in CW mode by choosing 100% duty cycle (option). The system is passively cooled with no fans, which makes for very quiet operation.