CYFL-GIGA - Continuous Wave Ytterbium Fiber Laser
CYFL-GIGA - Continuous Wave Ytterbium Fiber Laser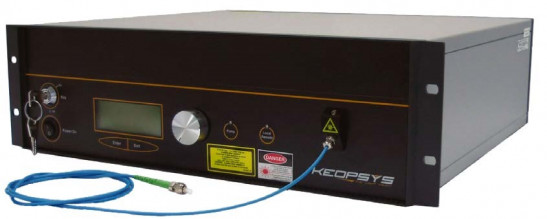 OVERVIEW
CYFL-GIGA series are Ytterbium-doped fiber lasers emitting at 1083 nm. These
lasers are specially designed for helium pumping applications. Optical imaging for medical
applications, study of the helium spin in the nuclear field, absorption spectroscopy and
nuclear physics are among the large list of applications with this fiber laser.

Designed in cooperation with an University research team, this patented ytterbium fiber
laser is stable, robust and easy to use.
The CYFL-GIGA series can deliver a high output power, up to 20 watts.
Standard operating wavelength is 1083 nm, but other wavelengths can be requested on a
custom basis. The series includes polarization maintaining models.
One particular property is the linewidth of 1 or 2GHz, filled with a large number of single
longitudinal modes. This allows consequently to achieve high pumping efficiency of gas
atomic transition.

The Ytterbium fiber laser does not need maintenance thanks to a complete fiber design. On
request, Lumibird provides free support for installation.
The CYFL-GIGA series are available in benchtops which offer the possibility to monitor
the laser via the front panel or remotely via serial port. Both models offer robustness and
reliability.
SPECIFICATION
Wavelength:

1083 nm

Output Power:

From 2 to 20 W

Beam Quality (M^2):

< 1.1

Operation Mode:

Continuous Wave (CW)

Spectral Linewidth:

2 max GHz
Applications
• Medical imaging
• Nuclear physics
• Helium pumping for medical lung imaging
• Absorption spectroscopy
• Wavelength conversion
KEY FEATURES
• Output power up to 20 W
• 1083 nm standard wavelength
• 2 GHz linewidth
• Wavelength tuning up to 100 GHz (optional)
• Laser frequency modulation (optional)
• Random or linear polarization
• Excellent SMSR
• Diffraction limited output
• Robust and reliable
• Turn-key system