CTFL-TERA - CW Thulium Fiber Laser
CTFL-TERA - CW Thulium Fiber Laser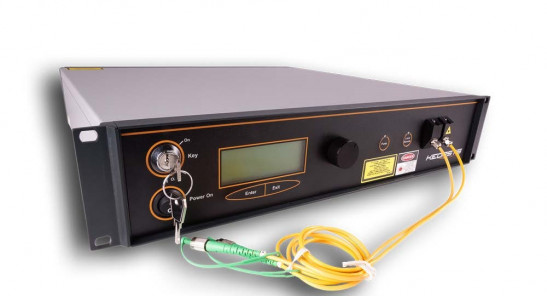 OVERVIEW
The CTFL-TERA series is a range of 2µm Continuous Wave thulium fiber laser delivering
up to 30W output power with random or linear polarization. The innovative all-in fiber
designs offer a very good optical power stability with an excellent beam quality, M2<1.1
or M2<1.3 depending on the output power. Solutions are possible with a fixed operating
center wavelength between 1900nm and 2050nm.

The CTFL-TERA lasers are commonly used for applications such as medical surgery, medical
treatment, Solid state laser pumping, plastic material processing and for counter-measure
in defense.

The CTFL-TERA series is proposed in turn-key easy rack with a user-friendly front panel.
Depending on the model, the rack can be remotely controlled with a RS232 communication
through Sub-D 9 connector, or with a RS232 communication through a USB connector
and Webpages/Telnet/SSH/SNMP2 through a RJ45 connector. OEM modules are also
available with a microcontroller for internal controls, alarms, and RS232 communications
making the laser compatible with all systems.
SPECIFICATION
Wavelength:

From 1900 to 2050 nm

Output Power:

Up to 30 W

Beam Quality (M^2):

<1.1 or <1.3

Operation Mode:

Continuous Wave (CW), Modulated

Output Fiber Length:

1 m
Applications


Medical surgery


Medical treatment


Solid state laser pumping


Plastics material processing


Counter-measure in Defense


KEY FEATURES


Large choice of wavelength from 1900 to 2100 nm


High output power: up to 30W


Linear polarization available


Compact module


Plug & play benchtop


High beam quality