Gentec-EO - High Power Detector - HP100A-12KW-HD
Gentec-EO - High Power Detector - HP100A-12KW-HD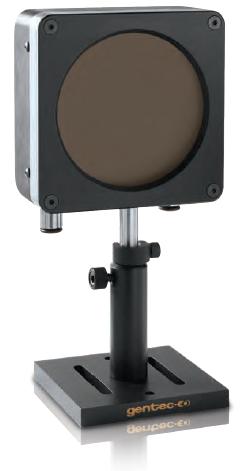 OVERVIEW
Gentec-EO offers a power detector for measuring high or super high laser powers in the range from 100W - 12,000W. HP series power meters can be used in a wide range of applications for detecting light from deep ultraviolet (DUV) to far infrared (FIR).
SPECIFICATION
Max Average Power:

12000 W

Effective Aperture:

100 mm

Spectral Range:

0.19 - 20 um

Cooling Method:

Water
Applications
- High power laser output measurements in 100W-12kW range
- Laboratory and industrial applications in a wide spectral range from deep ultraviolet (DUV) to far infrared (FIR).
KEY FEATURES
1. HIGH POWER HANDLING
Handles up to 12 kW of continuous power with our standard models. Custom models
available for higher powers (See SUPER HP).
2. STABLE READING
Less sensitive to variations in water cooling temperature than any other high power
water-cooled meter on the market.
3. LARGE APERTURE
Our standard HP models (4KW and 12KW) have a very large effective aperture of
100 mm Ø to accomodate large laser beams. Larger apertures with various shapes are available upon request (See SUPER HP).
4. SPECIAL MODEL FOR SMALL BEAMS
10 kW model with reflective cone available. Perfect for small beams (with Avg Power
Densities up to 10 kW/cm2 @ 10 kW).
5. DIRECT USB CONNECTION TO A PC
Each head comes with both a DB-15 connector (for use with a Gentec-EO monitor)
and a USB2.0 output for direct connection to a PC.