Photonchina Achromatic Lens
Photonchina Achromatic Lens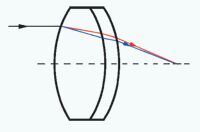 OVERVIEW
Achromatic lenses are normally made of BK7, fused silica and CaF2.
Special focusing systems can be designed by Photonchina's engineer team.
Sizes from smallest diameter of 3mm to biggest of over 100mm are all available.
Super small Achromatic Lenses for your specific application provide excellent wavefront quality, super small spot size and improved modulation transfer function (MTF).
SPECIFICATION
Mounting:

Unmounted, Mounted

Optimal Wavelength Range:

400 - 2000 nm

Diameter:

custom mm

Focal Length:

custom mm

Achromat Type:

Doublet, Triplet
Applications
Laser optics
OEM
Metrology
Vision
KEY FEATURES
Small diameter size up to 3mm
Short focal length, such as 5mm
Strict quality control, excellent quality
AR-coating, mounts services