PGFL - Pulsed Green Fiber Lasers
PGFL - Pulsed Green Fiber Lasers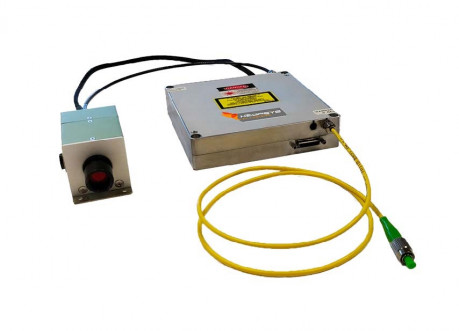 OVERVIEW
The PGFL series is a range of 532 nm pulsed fiber lasers, delivering high peak power and high energy per pulse in compact modules with a diffraction-limited output beam for range finding applications. Green lasers are commonly used for underwater operations in mapping and 3D scanning applications.

The optical design consists of a 1064 nm fiber laser connected to a high-efficiency second-harmonic generator. Compared to other technologies, the innovative optical architecture offers a better electricaltrigger to optical-pulse delay jitter and an excellent pulse duration stability,
allowing enhanced performance of the user's system.
The laser modules incorporate a microcontroller for internal controls, alarms, and RS232/USB communication, making the laser widely compatible. Pulses are triggered by an external signal supplied by the user system.

The rugged module can work in the most demanding environments. Its light weight and low power consumption are a particular advantage when using on drones.
SPECIFICATION
Wavelength:

532 nm

Average Output Power:

Up to 1.8 W

Pulse Duration:

0.5 - 4 ns

Beam Quality (M^2):

From <1.1 to <1.4

Max Pulse Repetition Rate:

1000 kHz

Energy Per Pulse:

Up to 50 µJ
Applications


ENVIRONMENTAL MONITORING


UNDERWATER TELEMETRY


UNDERWATER RANGE-FINDING


3D SCANNING


MAPPING


KEY FEATURES
• Energy per pulse up to 50 µJ
• Peak power up to 12 kW
• Average power up to 1.8 W in compact and rugged package
• Pulse repetition frequency from 15 kHz to 1 MHz
• Pulse duration from 0.5 to 4 ns
• Diffaction limited output beam
• Low power consumption