1550nm Pulsed Laser Source for DTS
1550nm Pulsed Laser Source for DTS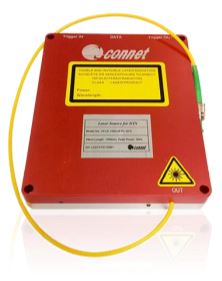 OVERVIEW
The 1550nm pulsed laser source for DTS of Connet is a pulsed laser source with high efficiency based on the 1550nm wavelength which is safe to human eyes. The new ns-class pulse-drive circuit has stable pulse and tiny distortion. The optimized low noise Er-doped fiber amplifiers can realize the high peak power and the ns-class pulse output laser. This laser is very suitable for the areas of the distributed fiber temperature measurement system (DTS), the laser ranging and the optical fiber sensing, etc.
The 1550nm pulsed laser source for DTS of Connet employs the separate structure with relatively independent optical path and circuit. The modular package is adopted with the wide voltage supply and the industrial standard DB15 communication port design. The user can control and operate the source easily by computer. The pulse signal generator is integrated inside the source and the signal synchronization output interface is also equipped internally at the same time. The pulse output can be also achieved by the external TTL trigger signal. All modules
go through the strict environmental tests to guarantee the long-time reliability and stability. It is very suitable for system integration.
SPECIFICATION
Wavelength:

1550 nm

Average Output Power:

20 W

Pulse Duration:

1 - 250 ns

Beam Quality (M^2):

1.1

Max Pulse Repetition Rate:

1 kHz
Applications
· DTS
· OTDR
· Ranging
· Processing
· Other scientific research
KEY FEATURES
· High peak output: 30W (Typ.)
· Pulse width: 10ns (Typ.)
· Repetition rate tunable: 1kHz-1MHz
· Internal or external TTL modulation
· Reliable performance