Chalcogenide IR-Fiber Cables CIR-350/400
Chalcogenide IR-Fiber Cables CIR-350/400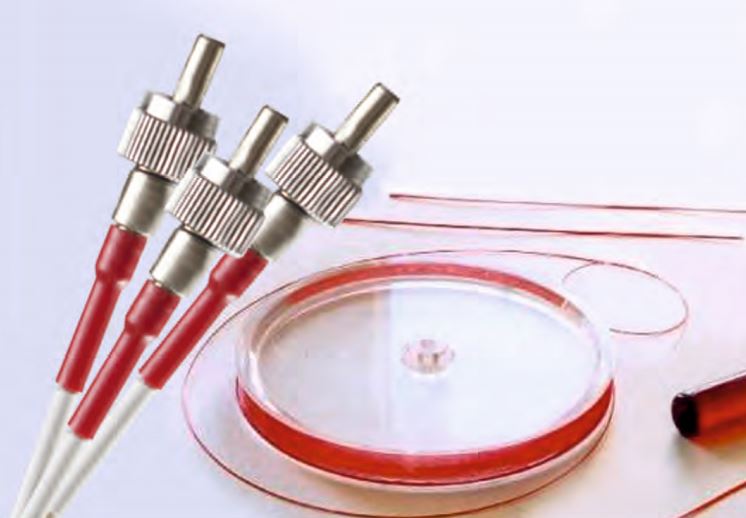 OVERVIEW
This is a Chalcogenide IR-Fiber Cable operating in 1.5-6 um wavelength range.
art photonics development of specialty fibers for the Mid-Infrared region has resulted in a unique product – Chalcogenide Infra-Red (CIR-) fibers.
Based on chalcogenide glasses (As₂ S₃) Chalcogenide IR-Fiber Cables transmit IR-radiation in the spectral gap between Silica fibers (0.2-2.4μm) and Polycrystalline InfraRed (PIR) fibers (4-18μm) in the range of 1.5 - 6μm
Our single- and multimode CIR fibers are drawn in core/clad structure with double polymer coating and characterized by a low optical loss.
Why chalcogenide IR-fibers: Chalcogenide glasses are an amalgam of chalcogen elements: typically selenium (Se), sulfur (S), and tellurium (Te). Arsenic (As), Germanium, and other elements might be added to facilitate the cross linking between the chains of chalcogens and render a resilient glass material. Chalcogenide IR fibers made of such glass offer useful physical characteristics including low optical loss transmission in the mid-IR and far IR wavelength regions, high refractive index, and relatively large nonlinearities compared to their silica alternatives.
We offer several different models of these Chalcogenide IR-Fiber Cables with different cladding and core diameters. Please inquire for more info and pricing.
SPECIFICATION
Core Diameter:

350 um

Wavelength Range:

1.5 - 6 um

Fiber Core Material:

As₂ S₃

Cable Length:

>0 m

Cladding Diameter:

400 um

Cladding Material:

As-S

Primary Protective Tubing:

PTFE

Secondary Protective Tubing:

PVC

Core Refractive Index:

2.4

Effective NA:

0.25 – 0.28

Minimum Bending Radius:

200 x Fiber diameter

Operating Temperature, °C:

-200 < T < 100

Maximum Transmitted Power, W:

1 (CW)
Applications
Chalcogenide IR-Fiber Cables CIR-350/400 have found applications in
- Flexible IR-imaging systems
- Fiber amplifiers and lasers
- Remote non-contact pyrometry in the 200-600K range
- Fiber probes for remote process IR - spectroscopy
KEY FEATURES
Our Chalcogenide IR-Fiber Cables offer many useful characteristics:
- High transmittance from 1.5μm to 6μm
- Optical losses 0.2 dB/m at 2 - 4 μm
- Double polymer coating for high flexibility
- Standard fiber diameters from 8 to 500µm