Ultra-high performance scientific research CCD spectrograph
Ultra-high performance scientific research CCD spectrograph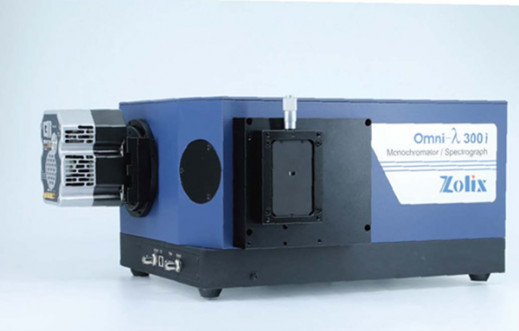 OVERVIEW
Omni-λ3008i-iVacN Ultra-high performance scientific research CCD spectrograph features outstanding spectral image calibration, high wavelength accuracy, and excellent stray light suppression. It consists of high resolution spectrometer and TE-cooled CCD.
Research grade performance: This CCD spectrograph offers a research-grade performance and is an ideal choice for measuring emission spectrum, fluorescence spectrum and Raman spectrum. Omni-λ3008i-iVacN provides secondary development kits, making this instrument also suitable for industrial applications.
Configuration: Omni-λ3008 features a classic Czerny-Turner configuration - an optical arrangement that spatially separates polychromatic light into a series of monochromatic rays. Along with interchangeable triple grating turret, this spectrometer can quickly reconfigure the spectral range and resolution.
Thermoelectric-cooled (Peltier) CCD: CCDs (charge coupled device) used in this instrument are equipped with thermoelectric cooling that ensures extremely low noise operation across the UV, visible and near-IR spectral ranges. With enhanced sensitivity, these CCD spectrometers become ideal for analysing the inherently weak Raman signal.
Quick data collection: The use of CCDs in this spectrograph also significantly reduces the acquisition time of 2D maps of emission during excitation-emission spectroscopy. Because CCDs are built as an array of photo-sensors, they are able to detect light with spatial resolution unlike other detectors such as photomultipliers (PMT). As a result, the entire spectral range of multiple wavelengths can be recorded in one shot, and quick scans of 2D excitation-emission maps become possible.
USB Connectivity: these CCD spectrometers are also equipped with USB 2.0 port for easy integration with your experiments
SPECIFICATION
Monochromator Type:

Czerny-Turner

Effective Focal Length:

320 mm

Diffraction Grating:

1200 lines/mm

Grating Blaze Wavelength:

500 nm

Spectral Range:

300 - 1200 nm

Linear Dispersion (Avg):

2.3 nm/mm

Spectral Resolution (Avg):

0.08 nm

Wavelength Accuracy:

±0.2 nm

Wavelength Repeatability:

±0.1 nm

Stray Light:

1×10-5

Focal Plane Size:

30×14 mm

Grating Mount:

Interchangeable triple grating turret
Applications
- Raman spectroscopy
- Emission and fluorescent spectroscopy
- Analytical tasks in the range from UV to IR
- Absorbance, Transmittance and Reflectance
KEY FEATURES
- Outstanding spectral image calibration
- Extremely high wavelength accuracy
- Single window design, delivers maximum photon throughput
- Excellent stray light suppression
- High resolution 15um pixel format
- Greater band-pass capture in a single shot (30mm wide sensor)
- Peak QE up to 95% @ 780nm
- 10x lower dark current for low dark current deep-depletion