High Performance Raman Spectrometer
High Performance Raman Spectrometer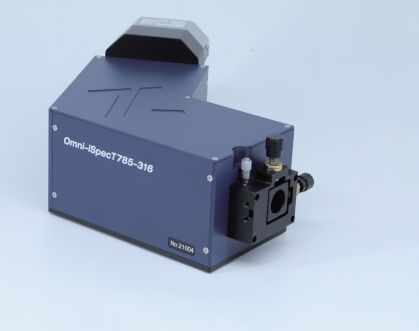 OVERVIEW
This is a high performance Raman Spectrometer. Combining volume phase holographic (VPH) grating, wavelength optimized optics and deep-cooled CCD camera, Zolix is proud to present this state-of-the-art Omni-iSpecT series Raman spectrograph.
Omni-SpectT Raman Spectrometer Highlights: It solves two essential problems concerned with Raman spectroscopy: speed and sensitivity. VPH spectrograph enables rapid acquisition and better S/N ratio, it is ideal for low light Raman applications such as remote detection, ultrafast Raman mapping and more. Its lens-based design delivers minimum distortion at focal plane and ensures best image quality, which gives you high resolution and large spectral range simultaneously. Additionally, its perfect image quality is ideal for multi-channel applications without cross-talking.
Compact footprint: The Omni-iSpecT's rugged and compact design make an ideal Raman spectroscopy module for in-the-field and industrial applications. It is still suitable for academic research with research-grade performance. The Omni-iSpecT also provides the SDK file for secondary development.
What is included in this Raman Spectrometer: Omni-SpectT comes with the following items
● 1x Raman Spectrograph base unit with XY adjustable universal fiber adaptor and manual entrance slit.
● 1x CCD detector with power supply and USB2.0 cable
Plus (the following optional accessories if requested)
● Shutter
● 2" 532nm long pass edge filter (OD=6)
● 2" 785nm long pass edge filter (OD=6)
Required Operating and Ambient Conditions
● Operating Temperature: 10℃ to 40℃ ambient
● Relative Humidity: < 80% (non-condensing)
● Ingress Protection: IP20
● Storage Temperature: -20℃ to 70℃
● Power: PS-12: 110-240 Vac, 50-60Hz
● OEM PSU recommendation: +12V, ± 5%, 5A maximum
● Regulation 11.4V minimum, ~ 12.0V typical, ~ 12.6V maximum
● Ripple & Noise: 200 mV maximum
SPECIFICATION
Monochromator Type:

Other

Effective Focal Length:

85 mm

Diffraction Grating:

1800 lines/mm

Grating Blaze Wavelength:

532 nm

Spectral Range:

532 - 680 nm

Linear Dispersion (Avg):

4.9 nm/mm

Spectral Resolution (Avg):

0.2 nm

F/#:

F/2.3

CCD Detector:

Back illuminated deep depletion

Pixels:

2000×256

Fiber Couplers:

XY adjustable fiber adaptor
Applications
This Raman Spectrometer is ideal for:
- Confocal Raman spectroscopy
- Low pressure gas detection
- Process control
- In-vivo or in-vitro medical diagnosis
- In-the-field and industrial applications
KEY FEATURES
Omni-iSpecT Raman Spectrometer features:
- High collection efficiency
- High throughput
- Large Raman shift coverage
- High diffraction efficiency
- Superior image quality
Zolix currently offers two separate Raman Spectrometer models in these series: Omni-iSpecT532A1 and Omni-iSpecT785A1
Model: Omni-iSpecT532A1
- Raman shift range / wavelength range: 0-4100cm-1/532-680nm
- F/# aperture: F/2.3
- Focal length (input/output) 85/85mm
- Grating: 1,800l/mm VPH
- CCD detector: Back illuminated deep depletion
- CCD resolution: 2000x256 pixels, 15um pixel size
- Image area: 30x3.8mm
- Adjustable entrance slit: 10um-6mm
- Resolution (Typical): 5cm-1 @585nm @50um slit, 7cm-1 guaranteed
- Fiber couplers: XY adjustable fiber adaptor
- Fiber: SMA/10mm fiber connector
- Shutter: Optional
- Built-in long pass filter: Optional, Φ50mm, 186cm-1
- Dimension (without CCD): 248x200x118mm
- Weight 5.0 kG
Model: Omni-iSpecT785A1
- Raman shift range / wavelength range: -200-2400cm-1/770-960nm
- F/# aperture: F/2.3
- Focal length (input/output) 85/85mm 85/85mm
- Grating: 1,200l/mm VPH
- CCD detector: Back illuminated deep depletion
- CCD resolution: 2000x256 pixels, 15um pixel size
- Image area: 30x3.8mm
- Adjustable entrance slit: 10um-6mm
- Resolution (Typical): 3cm-1 @912nm@50um slit, 5cm-1 guaranteed
- Fiber couplers: XY adjustable fiber adaptor
- Fiber: SMA/MPO/10mm fiber connector
- Shutter: Optional
- Built-in long pass filter: Optional, Φ50mm, 309cm-1
- Dimension (without CCD): 277x215x118mm
- Weight 5.8 kG