QBD Pockels cell driver board
QBD Pockels cell driver board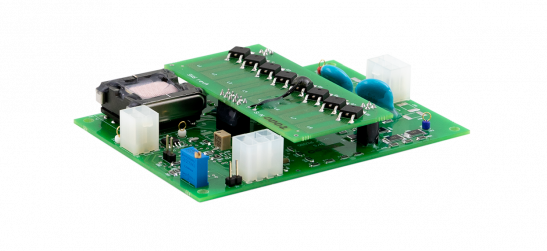 OVERVIEW
QBD-series consists of several Pockels cell driver circuit boards that differ with output voltage range (up to 6.0kV bipolar) and operating scheme.

QBD-series is specially designed to control Pockels cells by applying a fast switching high voltage. The modules require +24VDC power supply and pulse generator to set an operating frequency. An output voltage level can be programmed in working range by user either manually (through onboard configuration trimpot) or remotely (applying a DC voltage to the respective pin).

There are two possible modifications of output signal type:


push-up, when a base voltage level equals to zero


pull-down, when pulses from base bias voltage to ground are generated.



The desired one should be chosen at the time of ordering and could not be changed by user.

QBD-series is based on MOSFET technology and offers high repetition rates and fast transition time for a leading pulse edge. The recovery time by QBD is relatively long (5‑10 μs for the trailing pulse edge vs < 20ns by QBU).
KEY FEATURES


Push-up or pull-down modifications (fixed)


Up to 6 kV output voltage


Up to 100 kHz repetition rate


< 20 ns rise time or < 20 ns fall time (leading edge)