d-cycle
d-cycle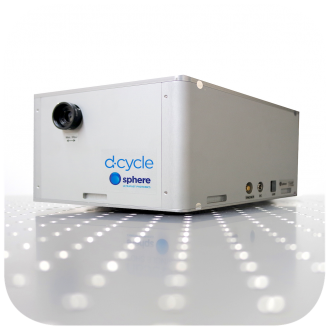 OVERVIEW
The d-cycle is the system of choice for fast and accurate measurement of even the most demanding ultrafast pulses, down to ultra-broadband spectra and single-cycle durations – the shortest for any commercially available device.
Its versatile and standalone architecture handles a variety of state-of-the-art ultrashort pulse sources, from broadband laser oscillators, amplifiers and OPAs to hollow-core fiber compressors. The d-cycle's compact footprint packs a dispersion-calibrated system that measures your pulses exactly as they are, without any ambiguities.
Coupling your beam into the d-cycle is easily achieved in less than one minute and a full measurement takes less than 10 seconds.
The intuitiveness of the d-cycle trace provides instant visual feedback for optimisation and control of your source via d-cycle's unique graphical user interface – the Virtual LogbookTM – and the proprietary d-scan retrieval algorithm provides fast and accurate retrieval of the complete temporal profile of the pulses.
SPECIFICATION
Device Type:

d-scan

Measurable Pulse Width:

2.5 - 60 fs

Wavelength Range:

450 - 1200 nm

Input Polarization:

Horizontal

Chirp Range:

+/- 700 fs2

Repetition Rate:

1 KHz and above

Maximum Beam Diameter:

5 mm

Required Input Energy:

>100 pJ @ 80 MHz >1 µJ @ 1 kHz

Diemnsions:

250 x 250 x 100 mm
Applications
Ultrafast laser pulse measurement
KEY FEATURES
Thanks to our technology we can measure and compress the most demanding ultrashort pulses. In 2018 we established the World Record for the shortest pulse ever achieved (and measured!), with 2.2 fs at the output of a single-channel hollow-core fiber compressor.

How many companies do you know that produce devices that can handle such broad spectra and short pulses? I give you the answer: there are no other companies in the market that can do it! Our technology, experience and know-how allow us to adapt our system to the most challenging dispersion ranges and broad spectra, going from 450nm to 1.7um, as nobody else can.