TL1000 Repetition Rate Stabilizer
TL1000 Repetition Rate Stabilizer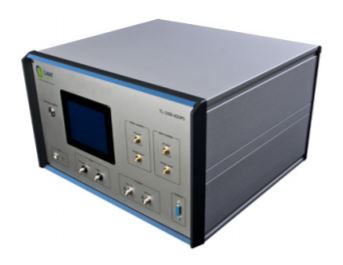 OVERVIEW
Laser Quantum offers the timing stabilization units TL-1000 and TL-1000-ASOPS as accessories to the gigajet series high-speed femtosecond oscillators and the femtosecond laser. The TL-1000 can also be used for stabilization of the gecco and venteon series of lasers. The TL-1000 allows the tight phase-lock of an oscillator repetition rate to an external reference such as a synthesizer or another mode locked laser, with a residual timing jitter. TL-1000-ASOPS enables a repetition rate offset-lock between two femtosecond oscillators (e.g. two taccor lasers or the oscillators contained in a gigajet TWIN) at a repetition rate difference between 2 kHz and 20 kHz. It also permits synchronization of two lasers with a jitter below 60 fs (synch. mode). System parameters are accessible via touchscreen and USB port.
Repetition rate stabilization is essential for applications requiring a well-defined timing relation between a femtosecond oscillator and a reference signal. Such applications are for example two-color pump-probe spectroscopy using two synchronized mode locked lasers, optical experiments synchronized to a pulsed electron source, or high speed asynchronous optical sampling (ASOPS) experiments. ASOPS is an ultra-rapid and precise time-domain spectroscopy technique pioneered by Laser Quantum GmbH, outperforming classical approaches by orders of magnitude in measurement speed and noise performance.
The TL-1000 and TL-1000-ASOPS are specifically designed to serve these applications. Repetition rate fluctuations of a free-running oscillator are efficiently suppressed with a residual timing jitter . TL-1000-ASOPS permits high-speed ASOPS based ultrafast time-domain spectroscopy using two femtosecond oscillators with >60 fs time-delay resolution.
SPECIFICATION
Rep Rate Range:

75 MHz - 10 GHz

Timing Jitter (taccor/helixx Models):

<100 fs

Timing Jitter (venteon/gecco Models):

<300 fs
KEY FEATURES
Repetition rate stabilization

Repetition rate offset locking

Low residual timing jitter

ASynchronous Optical Sampling (ASOPS)

Time Domain Spectroscopy