Free Space Acousto-Optic Modulator 532nm 100MHz
Free Space Acousto-Optic Modulator 532nm 100MHz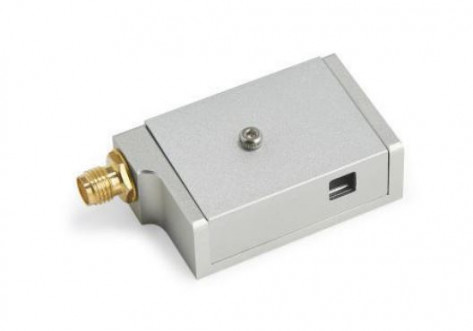 OVERVIEW
This is a Free Space Acousto-Optic Modulator (AOM) operating at 532nm and 100MHz. It features fast modulation speed, low insertion loss, high extinction ratio, low power consumption, good temperature stability and high performance reliability. Thanks to these characteristics it is an ideal choice for Q-switching, optical switching, frequency shifting and quantum communication applications.
Acousto-Optic Modulators use the principle of acousto-optic interaction to perform amplitude modulation and frequency shift processing on lasers.
CSRayzer offer a wide range of acousto-optic modulators (AOM) with wavelength regions from the visible to the infrared. All AOMs produced by us come in an all-metal structure design, compact and sturdy hermetic packaging structure, and innovative packaging technology to ensure high reliability and temperature stability.
CSRayzer also provides free space or fiber-coupled acousto-optic modulators, which are applied for Q-switched fiber lasers, laser Doppler coherent applications, ultrafast laser frequency pulse pickers, linear frequency adjustment, with wavelength range from 300 nm to 2000 nm, and frequency range from 35 MHz to 300 MHz.
SPECIFICATION
Center Wavelength:

532 nm

Operational Wavelength Range:

500 - 650 nm

Acoustic Mode:

Transverse

Operating Frequency:

100 MHz

Light Polarization:

Random

Optical Power Density:

1 KW/cm2

Deflection Angle:

12.66 mrad

Radio Frequency Power:

0.8 w

Diffraction Efficiency:

90%

Optical Aperture (L X H):

2 x 1 mm

Average Optical Power Handling:

5 W

Device Interface:

SMA

Material:

TeO2

Rise Time:

200 ns

VSWR:

1.2:1

Input Impedance:

50 Ω
Applications
Thanks to its robust construction and performance parameters these acousto-optical modulators are the preferred choice for a variety of industrial and research applications including:
- Q Switch
- Optical Switch
- Frequency Shifting
- Quantum Communication
KEY FEATURES
This Free Space Acousto-Optic Modulator (532nm 100MHz) features the following advantages:
- Low Insertion Loss
- Compact Size
- Stable Performance
- Customizable Configuration
- Low and efficient Cost