Acousto-Optic Modulator 1064nm 200MHz Fiber Hi1060
Acousto-Optic Modulator 1064nm 200MHz Fiber Hi1060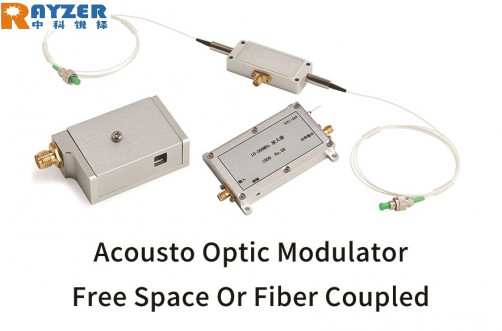 OVERVIEW
CSRayzer offers acousto-optic modulators with fast modulation speed, low insertion loss, high extinction ratio, low power consumption, good temperature stability and high performance reliability, with wavelength range from 300 nm to 2000 nm, and frequency range from 35 MHz to 300 MHz.

The AOM could be in free space, or fiber coupled type.
SPECIFICATION
Center Wavelength:

1064 nm

Operational Wavelength Range:

1030 - 1090 nm

Acoustic Mode:

Longitudinal

Operating Frequency:

200 MHz

Optical Power Density:

0.5 KW/cm2

Deflection Angle:

12.66 mrad

Fiber Type:

Hi 1060

Rise/fall Time:

10 ns
Applications
Ultrafast Picosecond and Femtosecond fiber Laser system

Optical Switch

Acousto-Optic Frequency Shifter,

Laser Pulse Picker,

Amplitude Modulation,

etc.
KEY FEATURES
Low Insertion Loss

Compact Size

Stable Performance

Customized configuration Available

Low and efficient Cost