Gentec-EO - Single Channel Energy and Power Monitor - S-LINK-1
Gentec-EO - Single Channel Energy and Power Monitor - S-LINK-1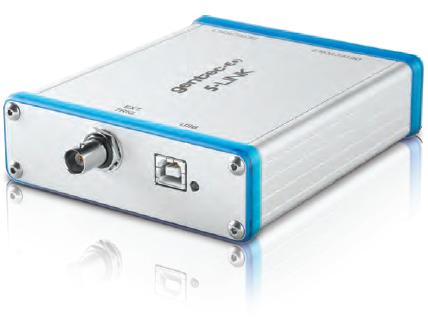 OVERVIEW
Gentec-EO offers a 1 and 2 channel PC-based energy and power monitors. S-LINK compact, versatile design make it an ideal choice in industrial light measurement applications.
This PC-Based monitor is compatible with thermopile
and pyroelectric detectors.
SPECIFICATION
Detector Compatibility:

Pyroelectric, Thermopile

Min Measurable Energy:

<100 fJ

Max Measurable Energy:

<100 kJ

Min Measurable Power:

< 10 uW

Max Measurable Power:

<100 kW

Energy Monitor Accuracy:

<2%

Power Monitor Accuracy:

<2%
KEY FEATURES
1. READS BOTH POWER AND ENERGY
Thermopiles and pyroelectrics
2. AVAILABLE WITH 1 OR 2 CHANNELS
S-LINK-1 and S-LINK-2 models now available
3. PC-BASED
Connects to your PC with included software
4. SERIAL COMMANDS
Serial commands are available on all versions to let you take full control
5. FASTEST DATA TRANSFER RATE
Get all the points transferred directly into your PC at 10 kHz/Channel
6. USB OR ETHERNET
Choose your favourite communications port. The USB version is port-powered.
7. EXTERNAL TRIGGER
Every model comes standard with a 2.4 V to 24 V external trigger.