Merion C
Merion C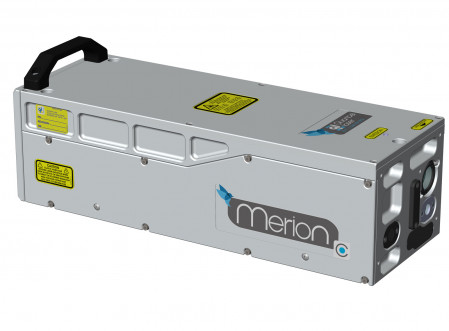 OVERVIEW
The Merion C is the newcomer in the Quantel laser diode-pumped nanosecond Nd:YAG range.
This new DPSS laser combines all the advantages of the compact, powerful, reliable and cost-effective lasers you expect from Quantel laser.
The Merion C delivers 100 mJ @ 1064 nm up to 400 Hz and can be equipped with fully integrated harmonic generators, down to 266 nm, to cover a wide range of applications.
All key components such as laser diodes, gain modules and laser driver electronics are internally designed, ensuring full control of the entire process.
It represents the best solution for demanding applications like LiDAR, LIBS or material processing, where customers install the system and operate it remotely with high reliability and confidence.
SPECIFICATION
Avg. Power:

40 W

Wavelength:

1064 nm

Repetition Rate:

0.2 - 0.4 kHz

Spatial Mode (M^2):

NA

Pulse Duration:

< 7 - 10 ns

Pulse-to-Pulse Stability (RMS):

± 1 (0.5) %

Cooling:

Water-to-Air
Applications
· PHOTOACOUSTIC IMAGING
· LiDAR
· LIBS
· LASER ULTRASOUND
· WAFER INSPECTION
· LASER PEENING
· DYE, OPO & TI:SA PUMPING
KEY FEATURES


High power packed in a small footprint


Excellent shot to shot stability and superior beam profile up to 400 Hz


Sealed against external contaminants


Industrial design, built to last


Easy integration


Interchangeable power supply


Diodes warranty: 2 billion shots


Fiber coupling available at 1064, 532, 1540 nm