Photometrics DV2 - Dual-Channel Simultaneous-Imaging System
Photometrics DV2 - Dual-Channel Simultaneous-Imaging System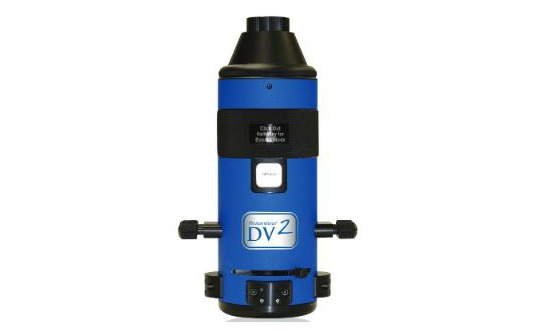 OVERVIEW
The Photometrics® DV2™ utilizes a single-beamsplitter design to split the emission light from a microscope into two independent channels. Each channel is projected onto half of the CCD at the same time. Simultaneous multichannel imaging is essential for FRET and other emission ratiometric applications.
SPECIFICATION
Number Of Channels:

2

Sensor Type:

CCD

Wavelength Range:

400 - 750 nm
Applications
• Fluorescence resonance energy transfer (FRET) imaging
• Polarized FRET analysis
• Calcium imaging with fluo-3/Fura Red™ (Molecular Probes) or dual-emission indo-1 imaging
• Fluorescence polarization/anisotropy imaging
• Simultaneous fluorescence/DIC imaging
• Drug discovery with Cy3/Cy5
• Single-molecule fluorescence (SMF) imaging
• pH imaging with SNARF
• Multiwavelength total internal reflection fluorescence (TIRF) imaging
• Voltage sensing with di-4-ANEPPS
• Fluorescence in situ hybridization (FISH) imaging
• cAMP imaging with FICRhR
• Multichannel confocal microscopy when used in conjunction with a spinning-disk confocal
KEY FEATURES
• Simultaneous acquisition of two emission channels
• Emission can be separated by wavelength, polarization, or amplitude
• Easily mounts to most microscopes
• Improved adjustment control enables easier image alignment
• Redesigned aperture adjustments ensure apertures are parallel
• Uses standard 25-mm-diameter emission and polarization filters
• Bypass mode permits no-hassle, full-field imaging
• Exchangeable filter cube allows multiple applications to be run with minimal realignment
• Integrated, adjustable CCD mask minimizes ghosting
• Works with many Photometrics® and QImaging® cameras*
*Please contact your local representative to verify compatibility with
specific cameras.