Asteria Light and Flicker Meter
Asteria Light and Flicker Meter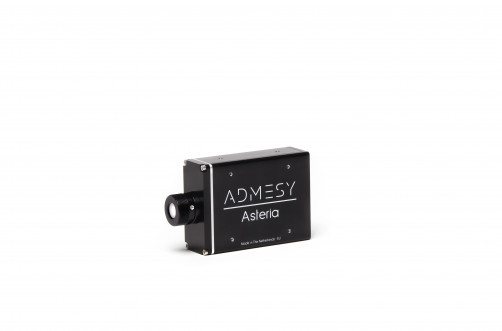 OVERVIEW
Admesy's Asteria is a high-speed measurement device suited for luminance, illuminance and flicker measurements. Based on the popular Admesy platform the Asteria is designed for in-line use with integrated calculating power for easy implementation and high speed measurement results in production settings. The Asteria is available in multiple configurations: the lens based system is capable of measuring luminance [cd/m²] and flicker, its cosine corrector configuration allows illuminance [lux], luminous intensity [cd] and flicker measurements. Fibre versions are also available to connect to remote cosine correctors, lens systems or connect to integrating spheres.
SPECIFICATION
Material:

Silicon (Si)

Spectral Range:

380 - 780 nm

Effective Aperture:

N/a mm

Mounting:

Mounted or Unmounted

Filter Response:

CIE 1931 luminosity curve V(λ)

Sample Speed:

186.567 samples per second

Supported Flicker Methods:

VESA, JEITA, percentage, index, IEEE 1789
Applications
High speed light meter, suitable for light, flicker and start-up behaviour measurements as well as general high speed light analysis.
KEY FEATURES
- Absolute luminance or illuminance & luminous intensity measurement according to the human eye: CIE1931 luminosity function
- All flicker measurement standards supported for display: Contrast, JEITA, VESA
- Lighting flicker methods: flicker percentage, index and IEEE 1789 recommendation
- Measure high and low frequencies at the same time through a high sample rate [186.567 samples/second] and large memory size
- Trigger input and output for in line applications
- Windows, Linux, OSX and embedded systems compatible
- SCPI command interface for easy integration in other applications
- Supported in all major programming languages Labview / Labwindows / Visual Studio [C++, C#, VB]/ etc.
- USBTMC standard compliant
- Integrating- and sampling mode available
- 3 gain stages for every mode
- Auto-range function
- User calibration function and pre-programmed calibration values