CamIR Adapter - NIR Image Converter
CamIR Adapter - NIR Image Converter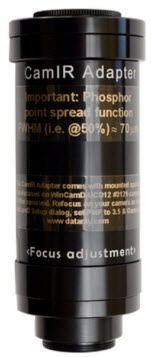 OVERVIEW
CamIR Adapter - a cost-effective Telecom C-band NIR image converter by DataRay Inc., the industry leader is design and manufacture of laser beam profilers.
Technology: A proprietary phosphor converts 1480-1605 nm photons to Silicon CMOS/ CCD detectable wavelengths image to the attached CMOS/CCD camera at a demagnification of x0.29 (PMF=3.5), to give an effective active area of 22 x 16.5 mm with a ½", 1/1.8", ⅔", or 1" cameras. The effective pixel size is 3.5 x the actual pixel size, but due to the phosphor, the primary limitation is the phosphors point spread function of ~70 μm FWHM, and ~200 μm at 1/e2.
The response to incoming irradiance is logarithmic. This is automatically corrected in WinCamD software, by setting the Gamma in Setup to 1.41. Like any phosphor, the response is spatially non-uniform. Typical beam diameter measurement accuracy is around 5 to 10%.
Performance and Pricing: This technology is better than the low resolution and image lag of IR vidicons, yet less sensitive and less uniform than InGaAs arrays.
Applications
Beam intensity profiling of telecom diodes/devices
Imaging optical outputs of components such as optical fiber ends, amplifiers, routers and switchers, fiber gratings, splitters and couplers
On Line Production Alignment and Characterization –Real time Lens focusing
Stability Testing- Beam Wander over time
Laser beam divergence measurements
Co-Linear Measurements Aligning two lasers
Multiple Image separation Measurements (distance between peaks)
Measure Relative Intensity
KEY FEATURES
Extends the range of our standard silicon cameras into the near-infrared 1480 to 1605 nm
No image fading or lag time
Cost effective for beams ≥ 500 μm
High quality AR coated optics