Aluminum Nitride Substrate
Aluminum Nitride Substrate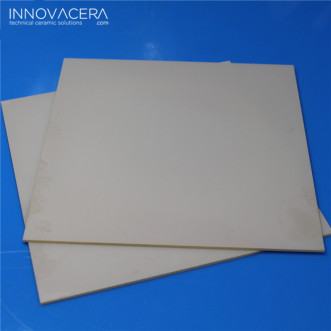 OVERVIEW
Aluminum nitride is a new type of ceramic material with excellent comprehensive performance. It
has excellent thermal conductivity and thermal shock resistance, reliable electrical insulation.
Because of the liquid phase sintering and no second phase at the grain boundary, the crystal structure
is very dense and has good Resistance to plasma corrosion. A series of excellent characteristics such
as low dielectric constant and dielectric loss, non-toxic and thermal expansion coefficient matching
silicon, are considered to be ideal materials for a new generation of highly integrated semiconductor
substrates and electronic device packaging, and are widely used at home and abroad attention.
SPECIFICATION
Material:

Aluminum Nitride

Type Of Ceramic:

Unglazed

Component Type:

Substrates

Thermal Conductivity:

170 W / (m * K)

Density:

≥ 3.3 g/cm3

Open Porosity:

0 vol.-%

Bending Strength σ M:

≥ 350 MPa

Young's Modulus:

≥ 320 GPa

Specific Heat:

740 J / (kg * K)

Typical Colour:

Grey -
Applications
IC packaging
Components for semiconductor equipment
Thermal module substrate
High power transistor module substrate
High frequency device substrate
Exothermic insulation board for Thyristor Modules
Semiconductor laser, fixed substrate for light emitting diode (LED)
Hybrid integrated module, ignition device module
KEY FEATURES
High thermal conductivity
Excellent thermal shock resistance
Excellent insulation, >15KV / cm
Plasma etching resistance
Good shock resistance
Non-toxic
Excellent mechanical properties