Accuflect IR Infrared Reflectors
Accuflect IR Infrared Reflectors
Accuratus Corporation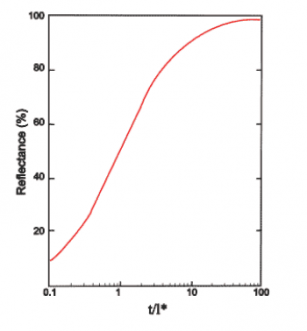 OVERVIEW
Accuflect® IR is a highly diffuse and low loss reflector of near infrared and mid infraredradiation. The diffuse reflecting Accuflect® IR offers alternatives to the metallic specular reflectors and their shortcomings often found in infrared heating applications.
SPECIFICATION
Material:

Ceramic

Type Of Ceramic:

Not Applicable

Component Type:

Reflectors
Applications
Accuflect® IR can be applied as flat panels to act as a planar source or it can be shaped to provide a more concentrated area of illumination.
Accuflect® IR is an electrical insulator.
KEY FEATURES
Diffuse reflectance creates a uniformly illuminated area
Accuflect® IR is a refractory material capable of long term use at 1200°C-- well above the use temperature of metal reflectors
The refractoriness eliminates the need to actively cool the reflector surfaces
Radiosity from the warm reflector surfaces improves heating efficiency and has a recuperator effect on the high temperature emitters
Accuflect® IR has optimal reflectance in the .76 micron to 2 micron NIR wavelengths characteristic of high energy and high watt density emitters operating above 1000°C