iStar 320T Time-Resolved iCCD Camera
iStar 320T Time-Resolved iCCD Camera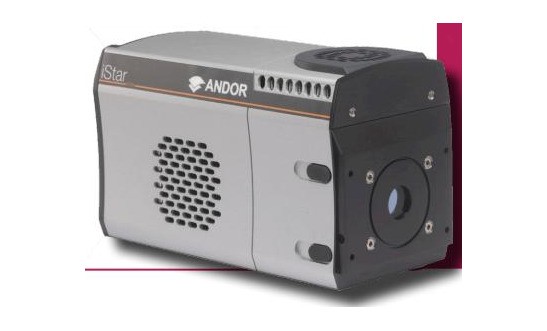 OVERVIEW
Andor's iStar DH320T intensified CCD camera series are designed to offer the ultimate integrated detection solution for high resolution, ns-scale time-resolved Spectroscopy.
The 4:1 aspect ratio is ideally suited for use with Andor's Shamrock Czerny-Turner spectrograph series and accessories. It offers Multi-MHz readout for acquisition in excess of 322 spectra/sec (> 2,900 in Crop Mode) along with laptop-friendly, USB 2.0 connectivity and a fully integrated, software-controlled Digital Delay Generator (DDG™). This allows seamless integration of complex experiments at the touch of a button, with full timing and gain control through a single interactive interface.
Gen 2 & 3 image intensifiers with entrance input window and phosphor options are available to match wavelength range requirements from 120 nm to 1,100 nm and minimum gating speeds requirements < 2 ns.
SPECIFICATION
Sensor Type:

iCCD

# Pixels (Width):

1024

# Pixels (Height):

255

Pixel Size (Square):

26 um

Peak Quantum Efficiency:

50 %

Full Frame Rate:

15 fps

Bit Depth:

16 bit