Chirped Mirrors (650 - 1050 nm) for Fused Silica Compensation
Chirped Mirrors (650 - 1050 nm) for Fused Silica Compensation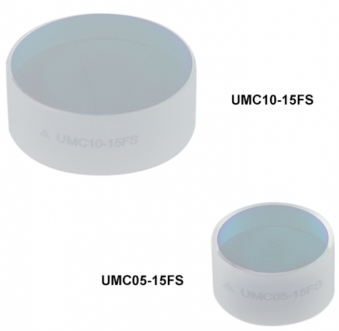 OVERVIEW
Thorlabs' UMC05-15FS and UMC10-15FS chirped mirrors feature >99.5% absolute reflectance over the 650 - 1050 nm wavelength range. The coating is engineered such that each reflection compensates for the dispersion introduced by 1.5 mm of fused silica over the entire range. The 10° AOI allows these mirrors to perform similarly for both s- and p-polarized light, and is ideal for a compact setup where multiple reflections are needed.
Thorlabs also produces the Chromatis dispersion measurement system for precise characterization of GDD for ultrafast optics.
For the most up to date information, please visit Thorlabs.com.
SPECIFICATION
Wavelength Range:

650 - 1050 nm

Reflectivity:

>99.5 %

GDD/pair:

-54 fs^2

Angle Of Incidence:

10 - 10 Degrees

Substrate:

Fused Silica