quantum entanglement Archives » FindLight Blog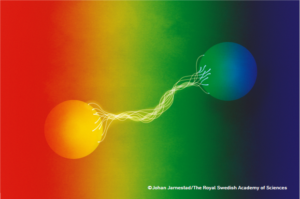 Quantum entanglement and the 2022 Nobel Prize
The 2022 Nobel prize in Physics on quantum entanglement has been announced and the findings are incredible! In short, what researchers Alain Aspect, John Clauser, and Anton Zeilinger have discovered is ...
Teleportation Through Quantum Entanglement
Teleportation is among one of the most highly anticipated and desired scientific advances of our time.  The idea that one could send anything to anyone anywhere instantly is certainly appealing, but is it ...