PRONTO-6K High Power Probes With Touch Screen Controls
PRONTO-6K High Power Probes With Touch Screen Controls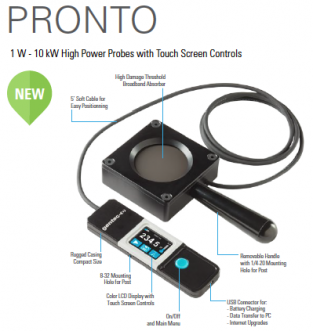 OVERVIEW
About Gentec-EO: Gentec Electro-Optics is specialized in laser beam and terahertz source measurement and analysis. Gentec-EO is an expert in the design and manufacture of light detection and measurement technologies and solutions with a 50-year history in the market. Gentec's offerings include laser beam profilers, detectors, power and energy meters, power and energy measurement displays, and more.
Product Description: Gentec-EO 1 W - 10 kW High Power Probes with Touch Screen Controls are user-friendly making your laser energy and power measurement smooth and easy.
SPECIFICATION
Max Average Power:

6000 W

Effective Aperture:

55 mm

Spectral Range:

0.19 - 20 um

Cooling Method:

Convection
Applications
Laser energy and power meter with built-in controls used in laser optics, metrology, inspection, academic, spectroscopy, biomedical, and other applications.
KEY FEATURES
1. WIDE POWER RANGE
Very low noise level = wide power range with just one device
2. CONTINUOUS READINGS AT LOW POWERS
The Pronto-500 includes a continuous power mode (CWP) for measurements up to 40 W.
3. NO-WAIT MEASUREMENTS
5 seconds measurements allow for very short cooling time (all models except PRONTO-3K)
4. EASY-TO-USE
The touch screen color LCD allows for a friendly user interface. You can make a measurement with just the
touch of a button!
5. DATA LOGGING
Save your data to the internal memory and then transfer it to your PC over the USB connection.
6. LARGE APERTURE
55 mm Ø aperture to accommodate large beams
7. RUGGED