Portable Laser Power Meter PRONTO-250-PLUS
Portable Laser Power Meter PRONTO-250-PLUS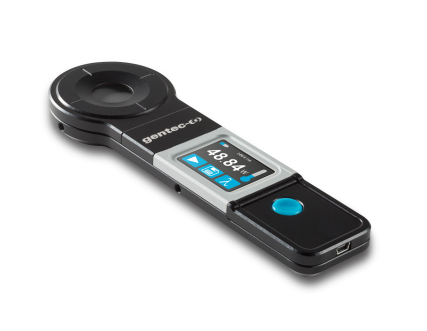 OVERVIEW
About Gentec-EO: Gentec Electro-Optics is specialized in laser beam and terahertz source measurement and analysis. Gentec-EO is an expert in the design and manufacture of light detection and measurement technologies and solutions with a 50-year history in the market. Gentec's offerings include laser beam profilers, detectors, power and energy meters, power and energy measurement displays, and more.
Product Description: The PRONTO-50-W5 and PRONTO-250 Portable Laser Probes from Gentec-EO are pocket-size laser power and energy meters with built-in display. The PRONTO-50-W5 and PRONTO-250 laser power meters give accurate measurement of laser power up to 50 W and 250 W in only 5 seconds. In addition to the regular Single Shot Power (SSP) mode, The PRONTO-250-PLUS power meter features 2 additional measurement modes: in Continuous Power (CWP) mode, the device measures power continuously up 8 W while in Single Shot Energy Mode (SSE), it measures the energy of individual pulses. The high power surface absorber sensors are designed to be used at high average power densities. PRONTO detectors can be supplied with an optional stand and/or power supply. If the desired wavelength is outside the calibrated spectral range, you can use the "Correction Factor" function to adjust the displayed measures.
SPECIFICATION
Max Average Power:

250 W

Effective Aperture:

19 mm

Spectral Range:

0.19 - 20 um

Cooling Method:

No cooling

Noise Level:

10 mW
Applications
Portable Laser Power Meter PRONTO-250-PLUS is used in laser power and energy measurements in laser optics, spectroscopy, metrology, inspection, biomedical, and other applications.
KEY FEATURES
These power meter products all have a calibration at 1064 nm (YAG) and they also have a traceable wavelength correction to complete the calibrated spectral range. The PRONTO-250/250-PLUS have an additional calibration at 10.6 µm (CO2). The PRONTO-250-PLUS units also have an additional calibration for SSE mode.