PIR-fiber delivery set for CO₂ laser
PIR-fiber delivery set for CO₂ laser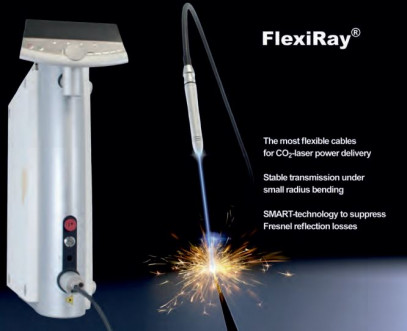 OVERVIEW
This is a PIR-Fiber Cable for flexible delivery of CO2 Laser Power. FlexiRay product line from art photonics includes unique High Power PIR-Fiber Cable for flexible delivery of CO2 laser radiation. Compared to hollow waveguides PIR-fibers provide more stable power transmittance under cable bending and can be bent for a smaller radius. Spectral SMART treatment of PIR-fiber ends suppresses Fresnel reflection to increase output power for 10-15%
What are PIR fibers? Silver Halide fibers are polycrystalline infrared (PIR) optical fibers that have high transmission in mid-IR wavelength range. Similar to standard optical fibers, PIR fibers propagate light by total internal reflection. They are comprised of a core and a cladding made from halide materials such that the refractive index of the core is higher than that of the cladding.
SPECIFICATION
Fiber Core Diameter:

400 um

Cable Length:

1.5 m

Maximal Laser Beam Diameter:

8 mm

Total Transmission (1.5 M Length):

>75 %

Maximum Input Power (CW):

30 W

Focusing Handpiece Diameter:

max 22 mm

Focusing Handpiece Length:

max 100 mm

Focal Spot Size:

0.65-0.9 mm

Operating Distance:

20 mm

Cladding Diameter:

500 um

Beam Divergence:

0.13 (1m cable); o.16 (1.5m cable)
Applications
PIR fibers have made CO2 and CO lasers a premium choice for a variety of industrial, medical and military applications. The flexible delivery of laser power output, which was not possible prior to the invention of PIR fiber cables, opens a wide range of application possibilities.
KEY FEATURES
This PIR-Fiber Cables come with a range of options including:
Delivery Set
- Adjustable Coupler to the Laser Head
- Focusing Handpiece
- Cooling gas inlet unit
Focusing Handpiece
- Focusing handpiece diameter: 12mm max
- Focusing handpiece length: 100mm max
- Focal spot size: 0.65 - 1mm
- Operating distance: 20mm
Cooling gas inlet unit
- Inlet diameter: 6mm
- Cooling gas excess pressure: 0.1-0.15 atm.